Discover more from From the Desk of Alicia Kennedy
Essays, criticism, and interviews on food culture, media, and politics sent out on Monday morning. Paid subscribers receive additional posts on Fridays and have access to commenting, the recipe archive, and more.
Over 33,000 subscribers
Here are the first, second, third, fourth, and fifth lectures in my Culinary Tourism class for Boston University's masters of gastronomy program. This is the itinerary for the class's recent visit to the archipelago.

The big question my students had while they were here with me in Puerto Rico was how I ended up teaching them in the first place. This is a great question, and the answer is that I received an email from the head of the Boston University gastronomy department last June asking if I'd like to teach the subject of culinary tourism in spring 2023. I said sure and asked what the next steps would be. I developed a syllabus that they accepted, and then we were off to the races. I spent the fall doing a lot of reading, research, and prep, and I began this year by writing my lectures, which you've been reading here in this newsletter the week after I've presented them to my class for discussion over Zoom.
By far the most difficult and outside-my-wheelhouse part of teaching this course was developing the itinerary for their week here. As a journalist, I'm used to asking people, "Hey, can I come see what you're doing and ask you some questions?" but it's a whole other ball of wax to be like, "Can I bring 15 other very curious people along with me?"
I wanted it to be a good mix of politics, agriculture, and culinary excursions, and so I set about planning it quite flexibly. Some of the things I wanted to do didn't work out—an urban foraging tour, an agroecological farm visit—but what we did end up doing was, I hope, fun, thought-provoking, and a way of adding life to the conversations we'd been having in the weeks leading up to the trip.
It was (for me!) wildly rewarding to meet everyone in person, despite my anxiety that things might go wrong. Luckily, I have a fabulous teaching assistant (who I think would prefer to go nameless here, but if they would allow me, I'd shout their greatness from the rooftops) who kept everything humming and my students were super game for everything.
To be teaching so many gastronomy students who also have hospitality experience or culinary training was such a gift, too, as everyone very easily formed into a team whether the task was drying off wet chairs, setting up a massive buffet, or buying up a clutch case of beverages to go with a rich lunch. I think if we'd been tasked as a group with catering a small wedding, we could've done it without much fuss. It was a reminder of why this is my field: It's for people who like to do as much as they like to think.
Sunday, Day 1
People were still arriving and getting themselves situated on this day, but I'd suggested lunch at Leña Eh in Miramar Food Truck Park, where food is cooked over fire. They make an exquisite eggplant dish, and many of my students ended up telling me it was the best food they had the entire trip.
At night, many of us met up at El Vino Crudo, my local natural wine bar in Old San Juan. The very chill nature of the spot and the fact that we were able to reserve a big space for ourselves made it the perfect place to say hello and ready ourselves for the long week of excursions ahead.
Monday, Day 2
We met early at the coffee shop Gusto's in Miramar (I picked it so no one would have to start our days uncaffeinated or without food) to find the bus the university had chartered and then head to Adjuntas for a presentation at Casa Pueblo, a community-driven nonprofit formed in 1980 that has brought international attention to the issue of solar power in Puerto Rico, showing how power, ecology, community, health, and education are all entwined with survival of people, land, and culture. We spent around three hours here, seeing their facilities, the Bosque Solar, and trying some of their Café Madre Isla coffee, sourced from nearby farmers.
From Adjuntas, we went to Ponce to see the other major city of Puerto Rico and its Plaza del Mercado. Being a Monday, it was rather empty, but we found one kiosk where we could grab some lunch and many folks enjoyed the sancocho. One produce stall was open, and so I did get to show some of the students guanabana, banana leaves, and a few indigenous viandas or root vegetables. (It was the first of three market stops, of course.)
Tuesday, Day 3
This was our earliest start day to make it to Para la Naturaleza's Hacienda la Esperanza in Manatí, at the site of a former sugarcane plantation. We got there early and, as luck would have it, an agronomist was there planting yautia and coconut trees, so he answered plenty of questions on farming.
When our tour guide found us, we began by hearing about their project to restore indigenous trees and plants on the grounds, and then we walked through some sugarcane to get a feel for how immense and difficult the work of cutting it would be before visiting their restoration of the original home to hear about the horrific treatment suffered by enslaved people for sugar profits, as well as the likelihood that they kept secret gardens in order to survive. The machinery for squeezing out sugarcane juice and processing it for crystal sugar had been restored, as well. It was an affecting reminder of the human labor necessary for a good so ubiquitous.
After Hacienda la Esperanza, we went to El Tren de Cano, a restaurant en route to our next stop, where my fabulous teaching assistant made friends with everyone in the kitchen and we ended up having a photo with the 73-year-old proprietor who's been cooking in the space since the early 1960s. The pumpkin flan was absolutely stunning.
The next stop was San Juan Artisan Distillers, makers of the Tresclavos and Ron Pepón rums made from local sugarcane juice into an agricole rum. We saw their sugarcane fields, their more modern press, and the distilling and bottling operation, before tasting the full line of expressions, most of them bottled with local fruits like passion fruit, mango, and quenepa. (My favorite bottle is the Ron Pepón añejo, which I recommend purchasing if you make a visit.)
Wednesday, Day 4
We started a little later this day, thankfully, and I brought my friend and brilliant chef Gabi Hernandez of the soon-to-reopen Verde Mesa along with us to tour the Plaza del Mercado de Río Piedras. He was able to tell everyone about local produce, from recao to apio to eggplant to gandules, and introduce butchers.
From there, we went to Lechonera los Amigos in Cayey, for everyone's pork experience. I'm aware that this is extremely out of character for me as a human and a writer, but I think in my capacity as professor, I need to leave my personal feelings about meat out of the situation. There's also plenty to eat otherwise, such as my personal favorite, yuca en escabache, as well as roasted batata and fried amarillos. Gabi ordered for everyone, and it was a very extensive buffet.
We then headed back to San Juan. I wanted everyone to have free evenings to recharge, rest, or hit up the local restaurants of their choice, so that we could all meet up each morning with energy and excited to get together again.
Thursday, Day 5
This was the Old San Juan day, making it very easy for me. We began at Filtrado, my favorite local coffee shop, where the owner took us through the pour over process, explaining how it mimics most closely the "sock method" of local grandmothers, and telling us about sourcing and roasting beans from local farmers, as well as the movement from focusing on volume coffee production to focusing on quality coffee production that is happening.
We then went on a walking tour around the city, visiting Ballaja, Iglesia San José, and Casa Blanca, before we went into La Factoria right as it was beginning to rain. Folks tried some of their cocktail menu and then we went across the street to La Taberna Lúpulo, where the owner gave a short impromptu talk about how the craft beer scene in Puerto Rico has emerged over the years and everyone got some much-needed lunch.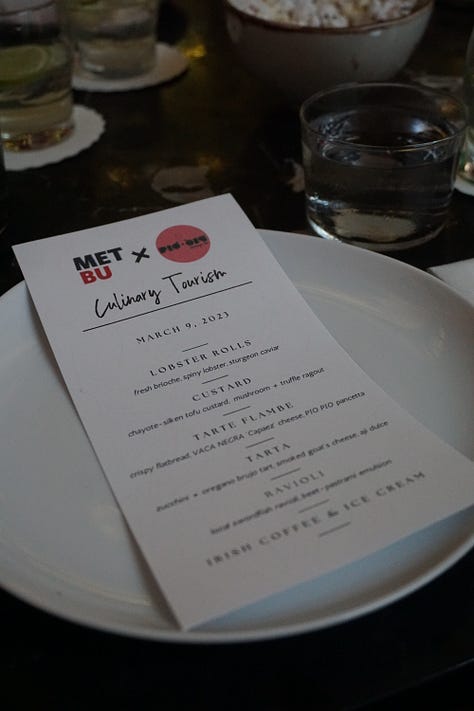 After that, it was a break, because I needed to do the dishes from my husband's birthday party the night before and everyone needed a little rest before we went to Pío Pío for a gorgeous special dinner they'd prepared for the class, starting with clarified piña coladas and ending with Irish coffee. The full menu is pictured.
Friday, Day 6
Everyone met up at the Museo de Arte Contemporáneo for the "Tropical Is Political: Caribbean Art Under the Visitor Economy Regime" exhibit that explores the plantation-to-(touristic/financial) paradise concept (I will likely write a full newsletter about this exhibit after one more visit), before heading to La Alcapurria Quemá for a lunch of alcapurria, pastelillos, and arepas de coco.
We then walked through the Plaza del Mercado de Santurce where I bought a pineapple, others got papaya, avocado, and passion fruit, and we saw some more local produce before finishing up the whole trip on a sweet note at Vía Láctea Scoop Shop, which makes non-dairy ice cream with a focus on using local ingredients like lemongrass, vanilla, and guava.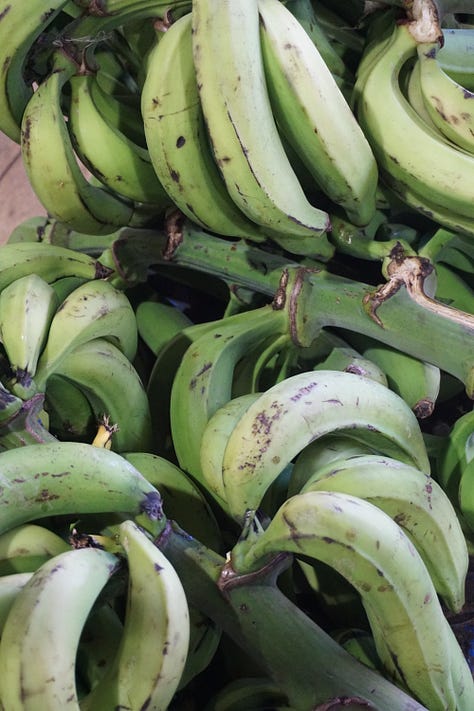 This Friday's From the Kitchen dispatch for paid subscribers will be about fake meat: what do we want when we talking about wanting it. I will discuss a couple of cookbooks that focus on the concept, as well as discuss how I approach meaty concepts with plants. See the recipe index for all recipes available to paid subscribers.
Published
Lol…
Reading
If you read the above and think I've gotten a lot of reading done this past week, you have a very high opinion of my mental capabilities.
Cooking
I made baked ziti for my husband's birthday, as well as a chocolate olive oil cake with whipped cream on top—all after getting home from day 4 with my students. I am superwoman.